Home
/
Online Store
/
CPAP Masks
/
Nasal Pillow CPAP Masks
/
Brevida AirPillow Nasal Pillow Cushion
Additional Photos: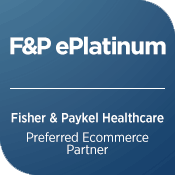 Brevida AirPillow Nasal Pillow Cushion
By Fisher & Paykel Healthcare HCPCS Code: A7033 (Disclaimer)
Included in your package:
(1) Brevida™ AirPillow™ Nasal Pillow Cushion in selected size
Choose the nasal pillow that adjusts to you as you breathe in and breathe out throughout the night to improve your sleep apnea therapy. With the Brevida™ AirPillow™ Nasal Pillow Cushion from Fisher & Paykel, you get a versatile pillow cushion that provides a unique and more effective seal.
A Better, More Complete Seal
Built specifically for the Brevida™ AirPillow™ Nasal Pillow mask, this cushion inflates as you inhale to form a seal inside your nostril and around the tip of your nose. This provides a more effective seal than you'll find with a traditional nasal pillow cushions, which only seal directly inside the nostril.
Sizing to Fit You
Because of the flexibility provided by the Brevida™ AirPillow™ Nasal Pillow Cushion, the sizing can be adjusted to fit a wide variety of facial sizes. The pillow cushion is available in two sizes:
Extra-Small - Small
Medium - Large
Supportive, Flexible Fit
The pillows are set up to fit a variety of nostril sizes, and will still create a strong seal because the pillows will inflate as you breathe in. The pillows are also surrounded by a side-support system made of a stable silicone to prevent the Brevida™ AirPillow™ Nasal Pillow Cushion from moving around during the night while you sleep.
Order Today!
For more information on replacement cushions for CPAP masks, contact CPAPCentral.com.
Product Specifications
| | |
| --- | --- |
| Cushion Material | Silicone |
| Latex-Free | Yes |
| Available Cushion Sizes | X-Small - Small ; Medium - Large |
Product Features
Reliable seal


Fits a variety of facial sizes and shapes


Additional Accessories
Thank you for sharing your product review with us!
Please use this one-time coupon code to save 5% on your next purchase at CPAPCentral.com

This promotion cannot be combined with any other discounts or previous purchases and excludes products manufactured by Phillips Respironics, Human Design Medical, and ResMed. CPAPCentral.com reserves the right to cancel or change this promotion without notice at any time. Offer valid only at www.cpapcentral.com