Home
/
Online Store
/
CPAP Masks
/
Mask Assembly Kits
/
Vitera™ Full Face CPAP Mask Assembly Kit
Additional Photos: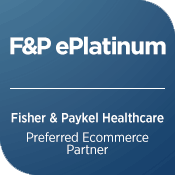 Vitera™ Full Face CPAP Mask Assembly Kit
By Fisher & Paykel Healthcare HCPCS Code: A7030 (Disclaimer)
Included in your package:
(1) Vitera™ Full Face CPAP Mask Frame
(1) Vitera™ Full Face CPAP Cushion in selected size
(1) User Instructions
The Vitera™ Full Face CPAP Mask Assembly Kit gives you the full benefit of a full face mask with enhanced support and a stronger seal. The mask features Fisher & Paykel's latest technology and is designed to fit a wide range of facial sizes and shapes.
Premium, Stable Cushioning
The Vitera™ Full Face CPAP Mask Assembly Kit features the RollFit XT cushioning system, which provides you with a more stable cushion that offers a dynamic seal. The mask cushion offers fewer leaks and includes a narrower design around the bridge of the nose to reduce the risk of air leaking into your eyes.
Stability Bar
The Vitera™ mask frame also features a stability bar that connects to your forehead. This stability bar enhances comfort and keeps your mask's cushion secure on your face, allowing you to sleep in any position. If you're an active sleeper, the stability bar will also assist in keeping your cushion in place, no matter how much you toss and turn.
This product DOES NOT include headgear. Headgear can be purchased through customization of the Vitera™ Headgear or along with the Vitera™ Full Face CPAP Mask with Headgear.
Contact CPAPCentral.com for additional information and recommendations on full face CPAP Masks.
Product Specifications
| | |
| --- | --- |
| Cushion Size | Small, Medium, Large |
Product Features
Slim Frame allows for open field of vision


Sleep comfortably in any position


RollFit XT Cushion reduces leaks


Forehead support


Breatheable Venti-Cool Headgear


Works well at high pressures


Additional Accessories
Thank you for sharing your product review with us!
Please use this one-time coupon code to save 5% on your next purchase at CPAPCentral.com

This promotion cannot be combined with any other discounts or previous purchases and excludes products manufactured by Phillips Respironics, Human Design Medical, and ResMed. CPAPCentral.com reserves the right to cancel or change this promotion without notice at any time. Offer valid only at www.cpapcentral.com