Home
/
Online Store
/
CPAP Masks
/
CPAP Mask Parts
/
Oracle™ 452 SoftSeal™
Product Videos: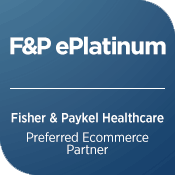 Oracle™ 452 SoftSeal™
By Fisher & Paykel Healthcare
MSRP: $ 59.00
Sale: $39.00

(Total Savings of 34%)

Included in your package:
(1) Oracle™ 452 SoftSeal™ in Selected Size
This Oracle™ 452 SoftSeal™ is a direct replacement seal for the Oracle™ 452 Oral CPAP Mask by Fisher & Paykel Healthcare. The SoftSeal™ is designed to create and maintain a seal between the lips and the mouthpiece and is flexible.
Two Sizes Available for Optimum Fit
The Oracle™ 452 SoftSeal™ is available in two sizes:
To locate the size of your SoftSeal™, remove the SoftSeal™ from the mask and hold the seal by the two silicone flaps so the two small openings are facing you. The size should be visible above the two openings and are embossed into the silicone. You may have to rotate the SoftSeal™ 180 degrees.
Let Us Help!
Not sure what size of cushion you have or if this is the right part for your mask? Our CPAP experts can help! Call us at (877) 629-1523, chat with us at the bottom right corner of the screen or send us your question in a quick contact form.
There are currently no product specifications at this time.
Product Features
Two sizes to ensure best possible fit.


Flexible silicone provides a soft feel.


Additional Accessories
Thank you for sharing your product review with us!
Please use this one-time coupon code to save 5% on your next purchase at CPAPCentral.com

This promotion cannot be combined with any other discounts or previous purchases and excludes products manufactured by Phillips Respironics, Human Design Medical, and ResMed. CPAPCentral.com reserves the right to cancel or change this promotion without notice at any time. Offer valid only at www.cpapcentral.com