Home
/
Online Store
/
CPAP Supplies
/
Mask Assembly Kits
/
Evora™ Nasal CPAP Mask Assembly Kit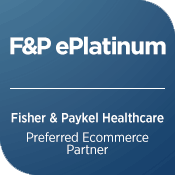 Evora™ Nasal CPAP Mask Assembly Kit
By Fisher & Paykel Healthcare HCPCS Code: A7034 (Disclaimer)
Included in your package:
(1) Evora™ Nasal Mask Frame
(1) Evora™ Nasal Seal in selected size
(1) Evora tubing with swivel connector
(1) Instructions
Upgrade your nasal CPAP therapy experience with the Evora™ Nasal Mask assembly kit from Fisher & Paykel.
The Evora features a unique compact cushion which keeps the mask comfortably in place during sleep as it sits under the nose, wraps around the nostrils, and covers less of the face to prevent top-of-the-nose red marks. It provides patients with a clear line of sight so they can read, watch TV, or even wear glasses while wearing the mask. Available in four different sizes.
Freedom of movement
The unique compact cushion sits under the nose to create a comfortable fit and cushion stability wings help keep the cushion in place and minimize leakage.
Sleep quietly
Evora has been designed with exhaust holes to minimize noise and draft.
This product DOES NOT include headgear. Headgear can be purchased through customization of the Evora™ Headgear or along with the Evora™ Nasal CPAP Mask with Headgear.
Do you have questions about this or other assembly kits? Ask a CPAP expert at CPAPCentral.com by calling (877) 832-3207, through live chat or a quick online message form.
Product Specifications
| | |
| --- | --- |
| Storage Temperature | 20°C - 50°C (4°F - 122°F) |
| Sound level | 25 dBA |
| Pressure range | 0-25 cmH2O |
| Compatible with Oxygen | Yes, with port adapter |
| Hypoallergenic | Yes |
| Latex-Free | Yes |
Product Features
Compact Nasal Seal with Stability Wings


Radial Exhaust Air Flow to Minimize Noise and Draft


Hand-wash seal, swivel, and frame daily with lukewarm water and mild soap and air-dry


Additional Accessories
Thank you for sharing your product review with us!
Please use this one-time coupon code to save 5% on your next purchase at CPAPCentral.com

This promotion cannot be combined with any other discounts or previous purchases and excludes products manufactured by Phillips Respironics, Human Design Medical, and ResMed. CPAPCentral.com reserves the right to cancel or change this promotion without notice at any time. Offer valid only at www.cpapcentral.com